Thank you to everyone who has stopped in to see our Tokyo photos...I've heard, "Wow, it looks like you did some amazing things." And, its true. But, so far I've only shared 2 days of the trip with you! : ) I'll try to be a little more concise with the rest of the trip, but maybe on the post after this one - because this day was my FAVORITE of the whole week!
With Japan being surrounded by water, you can imagine that fresh seafood is a large part of their diet. We were able to tag along with one of the 147,000 restauranteurs in Tokyo as he made his way through the Tsukiji Fish Market (in case you're wondering, that's pronounced "skee-gee"). He is one of 3000 owners that comes to purchase daily, and the only foreign purchaser of those (he's British). He is VERY particular about the quality of food & wants to handpick everything he serves.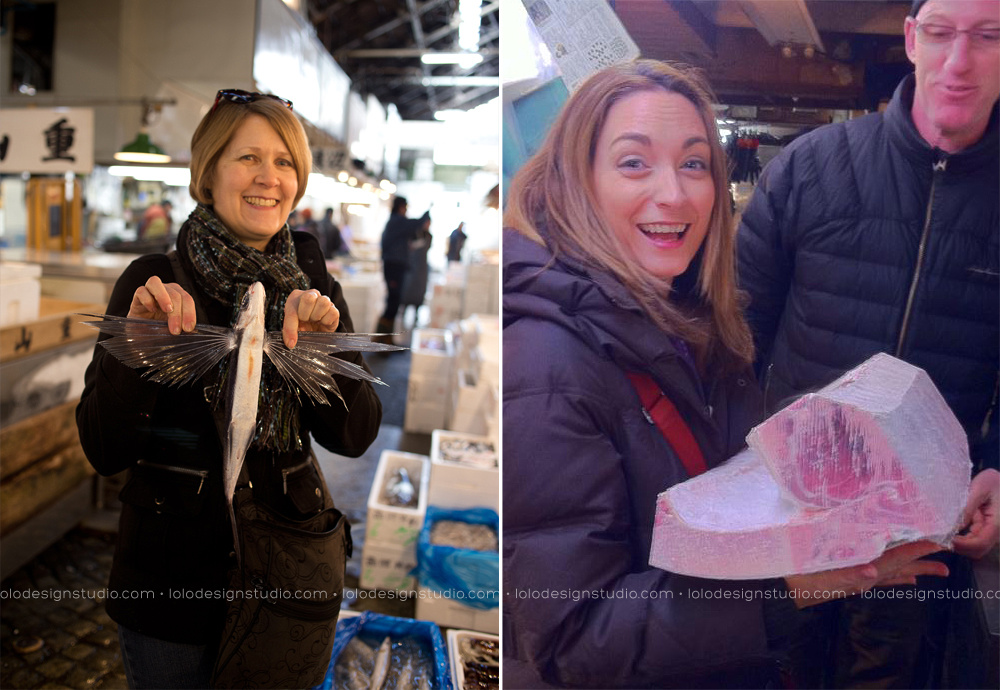 Since we were with Andy, we were able to hold fish, taste fish right out of the crate, touch it, walk pretty much wherever we wanted to...so.darn.cool. Above, my mom is holding a flying fish, while April is holding a huge chunk of frozen tuna.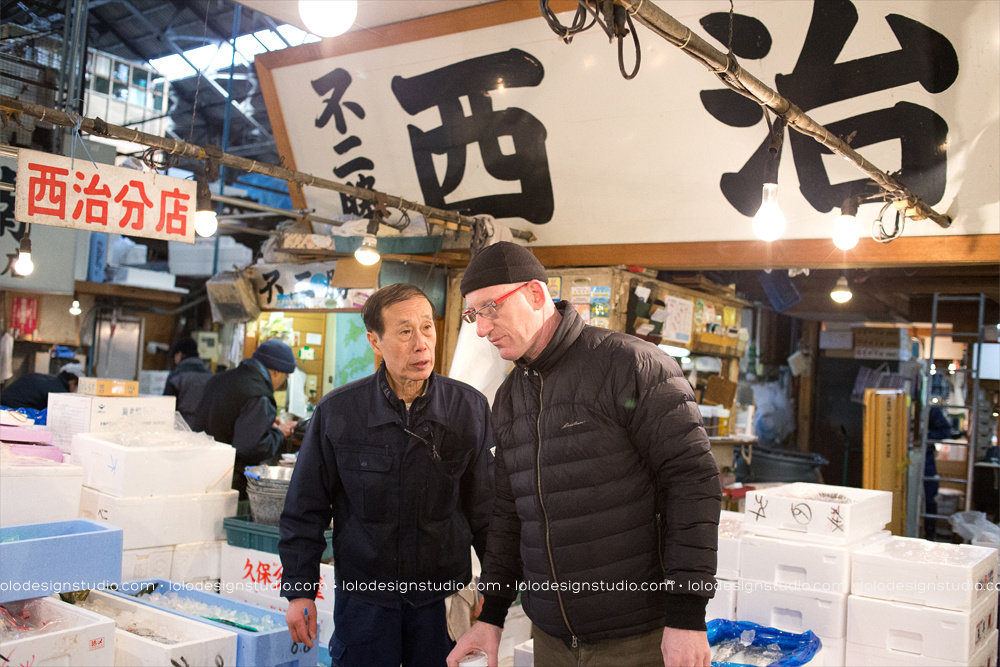 Andy - wheeling & dealing with the fishermen. He has been doing this for about 26 years, and is the 3rd Generation to inherit his Japanese wife's family business. We learned a lot about his process for determining freshness of fish ('well, we've slapped it so much, we have to buy it'), where it was caught (no farm-raised) & his criteria for purchasing (1. Color 2. Taste 3. Texture). He only deals with certain vendors based on their catch areas & is very conscientious of pricing. One thing that was amazing to me was that he does NOT create a list of what he will need to purchase each day. He looks at his reservations list in the morning & makes a note of how many Japanese guests there will be vs Foreign. That information, plus pricing and quality of what's available that day, is what determines his daily menus (Japanese & English). Lots going on his head!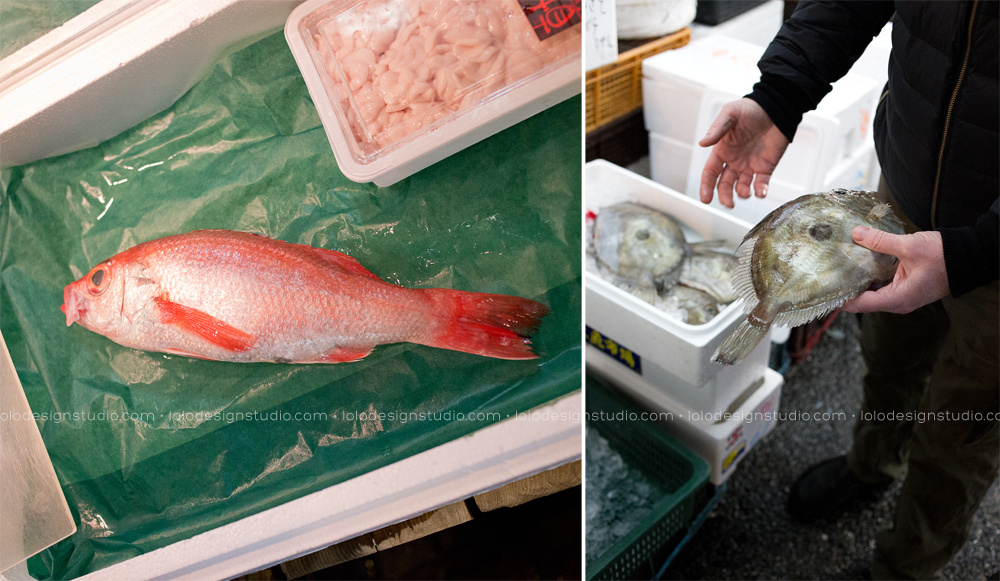 So, you're looking at possibly the best grilled fish I've ever tasted on the left. It's a Blackthroat, or Nodoguro. Market price for this one fish was $38 that day (April mentioned it was $78 the next time she went with him). But Andy said he was going to buy it & fix it for us as a gift that evening. The fish on the right is a John Dory, also known as St. Peter's Fish. It is one of April's favorite items on his English menu.
Another "Andy's" favorite of her's is the scallops. She took the opportunity to ask questions about them & got to see them "before". When we ate at his restaurant that night, we got to enjoy the "after", and they were delicious. On the right is a crate of sea urchins. He let us taste these right out of the box & wow! They were like butter. Who knew?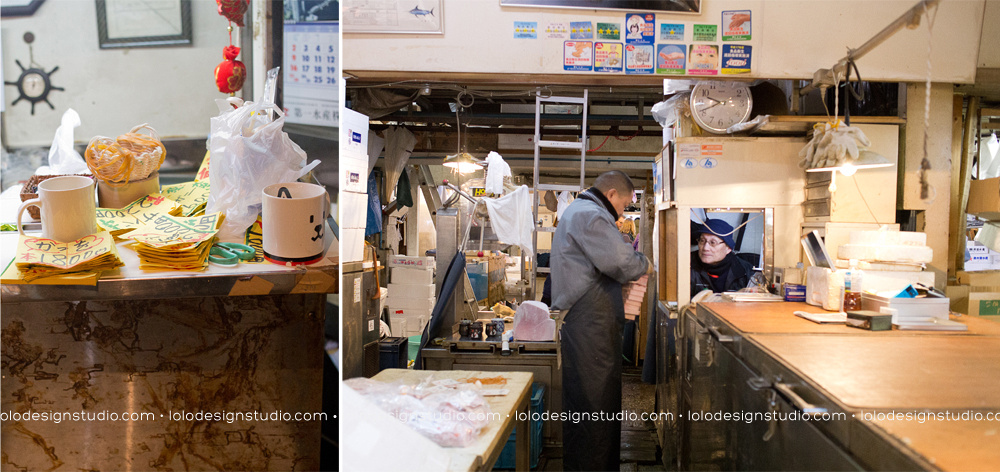 No computers. Just handwritten tickets & little old men in "offices" in the back of each stall...There are about 1200 stalls at the Market, and every 6 years or so there is a lottery held to see who gets what spot.
This is a working facility, so you have to be mindful of the workers - especially these motorized (beeping!) carts.
After our trip to Tsukiji, we wondered around the outer market ('where housewives come to buy their seafood'), had a coffee break, purchased the best roasted Nori in the world, then made our way to meet up with Eric & Mr. I for a Kobe beef lunch. Quite a few restaurants in Tokyo have minimal signage, are down a dark stairwell & the length of the queue is usually a good sign of how good the food is. Again, I didn't really grasp the whole need-for-a-queue concept until I actually got there. There are just THAT many people, everywhere, all the time, and they all have to eat, right? We had to bag our shoes for this spot & got to sit in a more traditional Japanese-style seating area.
Mr. I definitely knows how to work his chopsticks, too!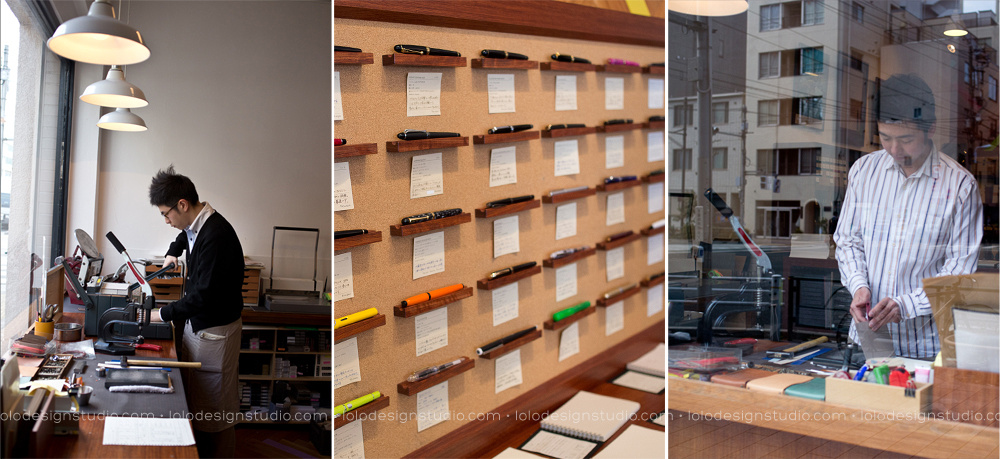 During the planning phase, April had sent over some tourist brochures & had us check them out to see if there was anything that piqued our interest. Being a designer and paper lover, I saw a stationary shop listed & then consequently saw this video about Kakimori. It was a little off the beaten path, but not an unknown place, for sure. There were quite a few high school kids there when we arrived. Some of the pens on the wall were $500! They are making my customized notebook in these shots. **UPDATE** For about 6 months, this notebook sat in my drawer, with me wondering what I would grace the pages with. In November 2014, I did a Bible Study at our church called, "One Thousand Gifts" by Ann Voskamp. She challenges you to write down 1000, yes 1K, gifts from God. This encourages you to see all the good around you, things that are obvious, but maybe dig a little deeper ('cause you're going to have to get to 1000, right?!) and really search for things to be joyful about. Be in thanks giving about... Yeah! I already had the perfect vessel, sitting patiently in my drawer, to start recording these gifts. As of Feb, 20, 2015, I have written down a mere 86 gifts, but it is in my purse at all times, ready to go when I'm ready to record them. So happy that this special notebook has an amazing purpose now & will be treasured by myself & my family for years to come...
April navigated us through the (clean & extensive) subway system with ease.
Our next stop was Kappabashi, or Kitchen Town. This massive chef's head & huge tea cups flanked the end of the block at the entrance to this area. Pretty hard to miss, right, Mom? : )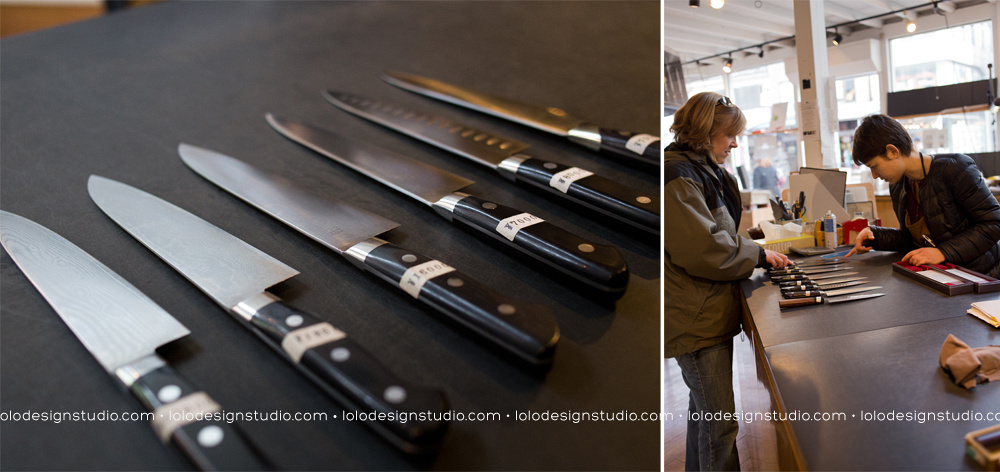 Our primary purpose was to check out the knife shop. They have an English-speaking salesperson there, who is very knowledgeable about knives. I am not a culinary expert, so I had no idea there was so much to know about knives. She pared down a selection for me, based on our intended usage, and then I had to make the final decision. Ultimately, I went with a bigger knife than I thought I would, but it was so beautiful! : ) She engraved a Japanese blessing, our last name (in Japanese) and the year into it while we waited. My husband loves it!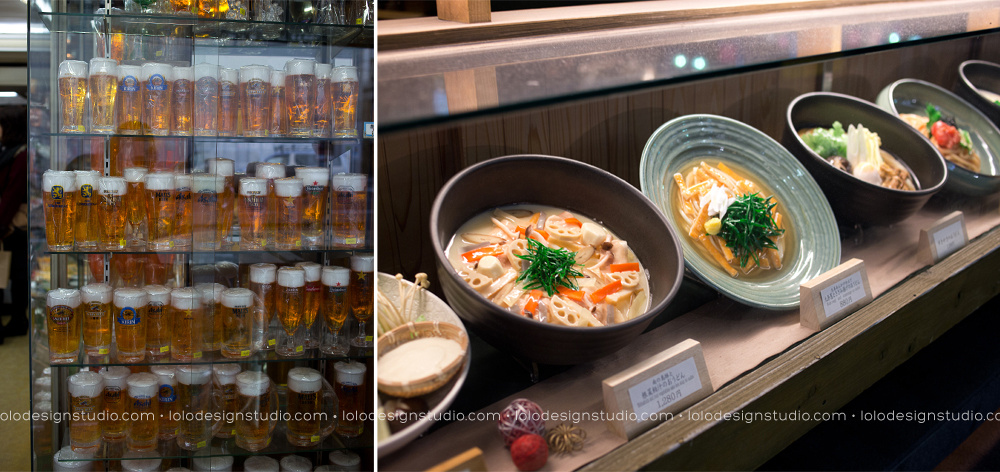 Most restaurants in Tokyo have window displays of some of their dishes, which are fake and are made in Kappabashi. We went into one of the shops & it does look so authentic. All of that beer? Sadly, its fake.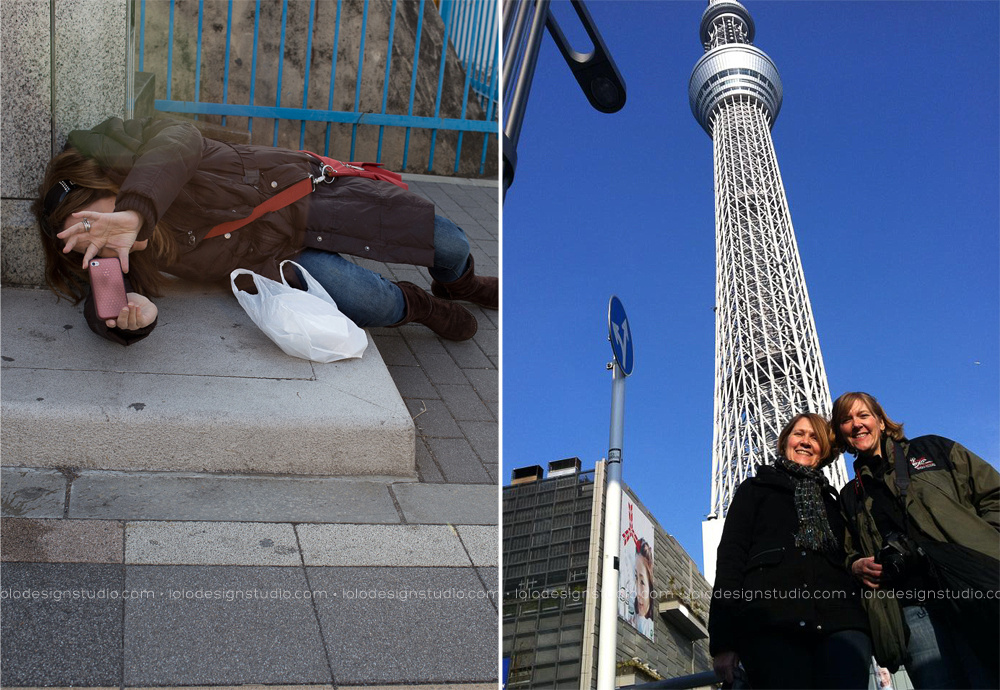 'Whew, what a day,' you say? Oh no, we're only half way through! After our Kitchen Town trip, we headed over to see the Sky Tree. (Anything to get the shot, right?!) Luckily for us, the wait was only 20 minutes, as its usually closer to the 1-2 hour mark. So, we went up & saw some pretty amazing views of the expansive city. Done here? Ok, on to Shibuya Crossing!
Shibuya Crossing had been in our itinerary earlier in the week, but with the rainy weather, we vowed to squeeze it back in later. We first walked through it, then secured a coffee & a seat at Starbucks to watch the 'show'. While this area is very congested, the Shinjuku station is actually the busiest in the WORLD - accommodating 3.5 MILLION people EVERY DAY! It has 202 exits. I am glad we had someone to point us in the right direction. : ) Drinks gone? Ok, on to dinner!
We met up with Eric at Andy's Shinhinomoto, which is snuggly located beneath the train tracks. It's technically not a restaurant, but an izakaya. I LOVED it! Not only was the food amazing, but it was so loud & so festive - exact opposite of our Japanese cultural experiences to that point.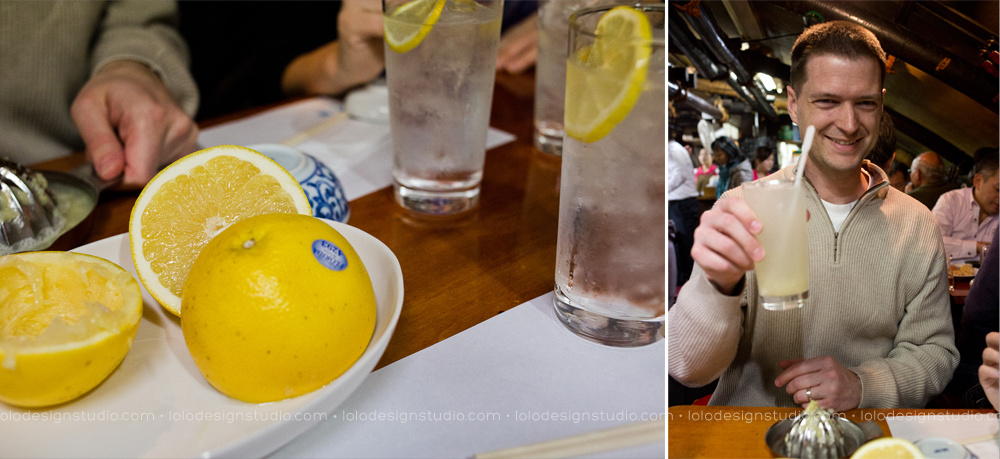 Eric has perfected his Shochu cocktail-mixing skills & we thoroughly enjoyed drinking these tasty beverages! Kanpai!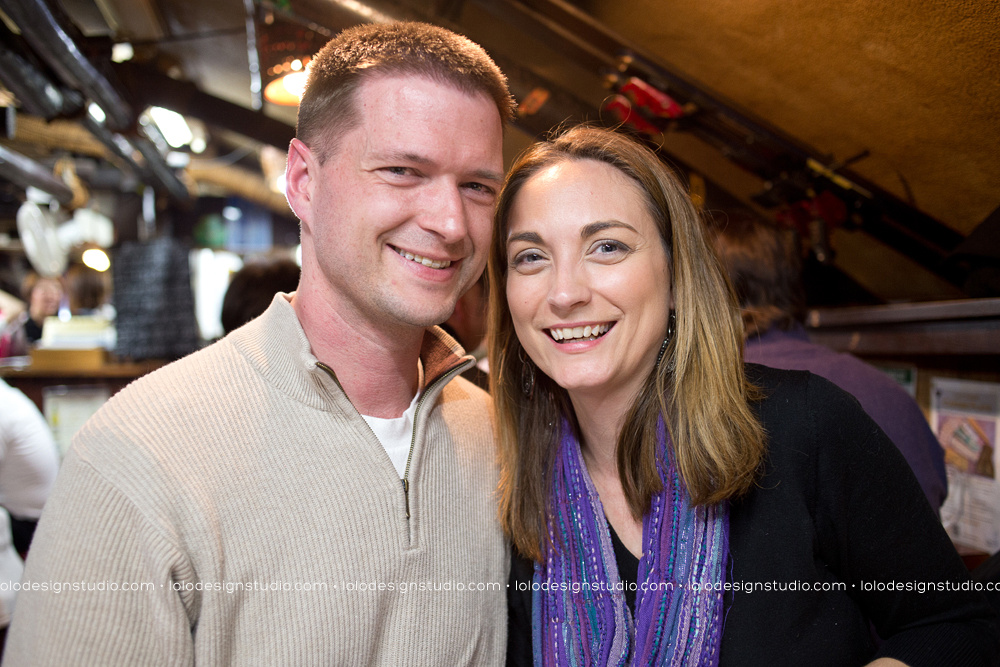 Can't say enough about how gracious our hosts were!
And, our group shot with Andy at his place. This picture nows hangs on its wall!! If you're in Tokyo, check it out. : )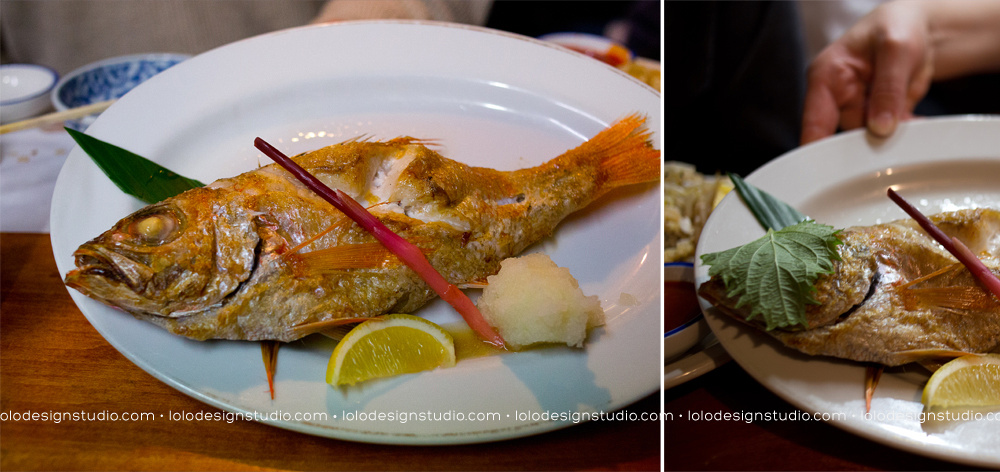 Remember the Blackthroat "before"? This is the "after". It came out looking like the picture on the left, but we had to eat it like the picture on the right. Patrons were so intrigued when it came to our table & one lady brought her menu over to ask us what it was. Sorry, Lady. Only one of these tonight! So, not only did I have the best grilled fish I'd ever eaten, I also had the best sashimi I'd ever eaten at Andy's. It was Spanish Mackerel, which I'd never had before. And, will definitely try to track down again! I'm sure it won't be as good as the pieces I had in Tokyo, but I'll just have to see...
Believe it or not, that concludes what was Tuesday! It was a lot to take in, so thanks for sticking with me to the end (of the day). Come back again for a post about Wed-Saturday...
If you missed the first post, catch it here.
If you missed the second post, you can find that here.
To see the 4th & (maybe) final post, click here.