One of my college goals was to go abroad for a semester. I ended up not having time to fit in that experience (because of an amazing organization called IUSF!). However, I was fortunate enough to have friends go abroad shortly after we graduated & off to Europe I went! Fast forward 10 years & we have friends living abroad again - this time in Japan. In college, my mom had the offer extended to her to travel home with a Japanese friend from college, and she just wasn't able to do it at the time. I've heard her mention that missed-trip-opportunity a few times, so I didn't want to miss out on this one. Last Fall, I was talking about going & my dad (jokingly, I think?) threw out the suggestion that I take her with me. Fast forward 3 months & we were booking our tickets to Tokyo!
I've passed on her blog link before, but April has done such an amazing job soaking in the culture/education/opportunity. And, she's done an amazing job passing all of that information along to the rest of us during the past 2+ yrs. In person, I was equally, if not more, impressed with the confidence she had moving us from one train line to the next, to making & confirming reservations, and even acquiring a hard to fathom appointment into the ever-so-exclusive Japanese school system! Miracle worker, I tell ya!
It was truly an amazing experience & I don't even know where to begin...except the beginning. I'll try to keep it brief & to the highlights, but who knows... *These photos are a combination of my DSLR, point & shoot and April's phone. So, basically I'm saying, the quality will vary. : )
My dad dropped off my mom & I at the Louisville International Airport bright & (way) early for the first leg of our trip. About 30 minutes or so before we were scheduled to leave, my mom saw "Cancelled" pop onto the board. What?! We hopped over into the line (4th, by the way) and 1 hour later we had been booked on a new set of flights, that would supposedly get us there only 1 hour later than originally planned. That was a first in all of my traveling experiences & was definitely foreshadowing of how the rest of our traveling might go...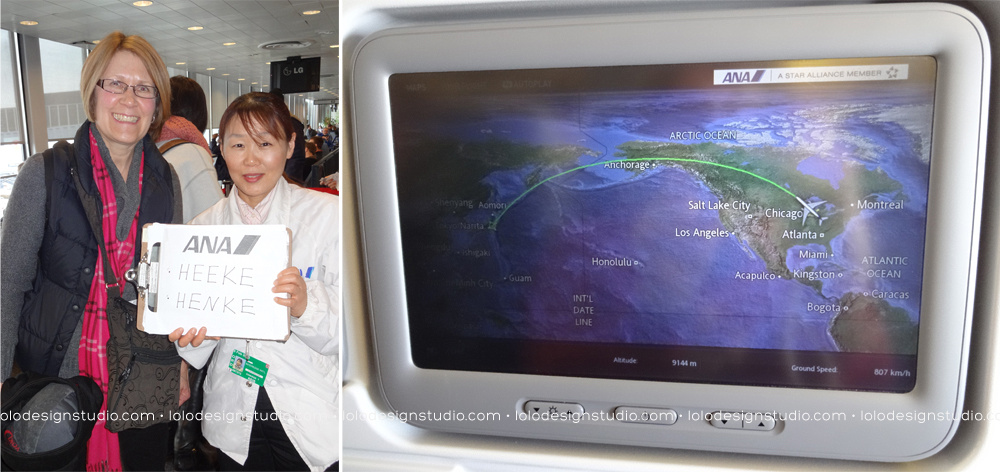 We arrived at O'Hare & were greeted at the gate by this lovely lady holding a clipboard with our names! Whaaat? She personally escorted us to our next flight, which was actually our original flight! I'm not sure what or how that happened, but I sent April a message from the runway & said, "We are on our way, as originally planned!" A smooth 12 hour flight later & we were in the Land of the Rising Sun! (without our luggage, but that's another story for another time)
When we got back to her house, we made a quick trip to the neighborhood grocery (which has Valet parking available - awesome!). Some things that really stood out to us were the excessive packaging in an environmentally conscientious society, the $10 Honey Nut Cheerios, the $7 brownies and the size of the milk!
April had planned out our whole week's itinerary so amazingly. She took requests & totally fulfilled them! Our first meal there was a restaurant where the sushi was served on a conveyor belt (in Roppongi Hills). There were several different plate designs/colors/thicknesses to let them know how to charge you. Check out the stack of plates behind my mom - those folks got their sushi fill, for sure!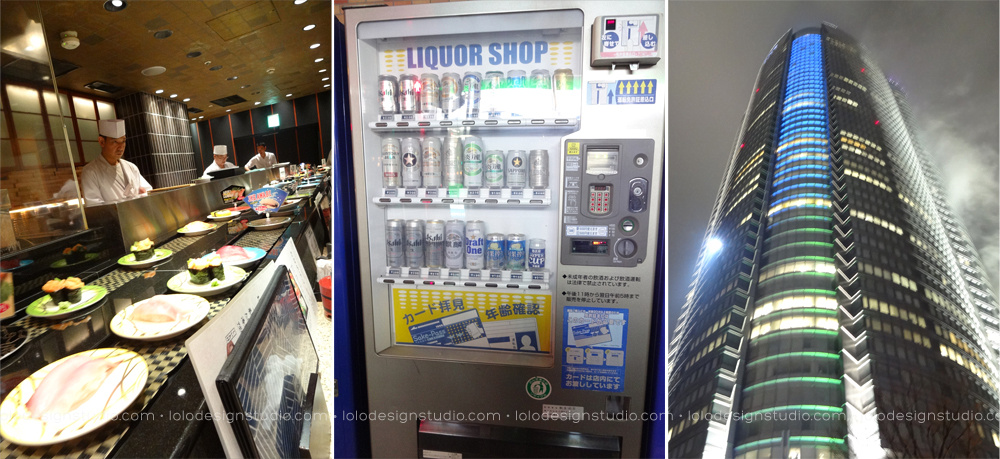 More conveyor sushi - a shot of one of the infamous vending machines - and Mori Tower that first night, which was rainy, dreary & windy...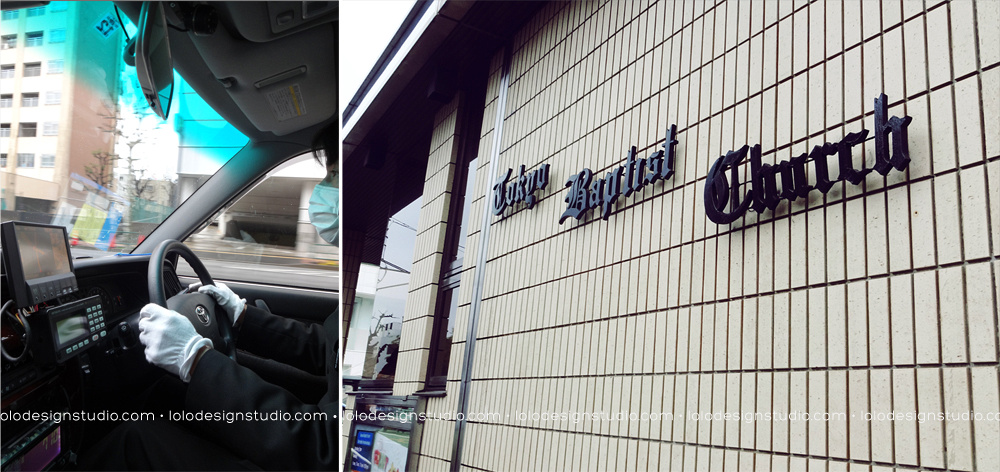 Tokyo, for being as large as it is, was very clean. I'm sure you've seen images of Japanese people wearing masks (both to prevent getting sick & to prevent spreading their germs if they are sick). The taxi driver who drove us to church the next morning was clad in a suit, white gloves and the mask. AND, the doors of taxis are automatic. So cool. Tokyo Baptist Church is 1 of 3 English-speaking Christian churches there & we enjoyed the music & message by Pastor Dennis (of Texas). Over 70 countries are represented in their congregation!
After church, we all walked to our lunch destination (in the Shinjuku area) & just took in the various sites/culture along the way. The 2nd picture is out of order, but that's alright. : )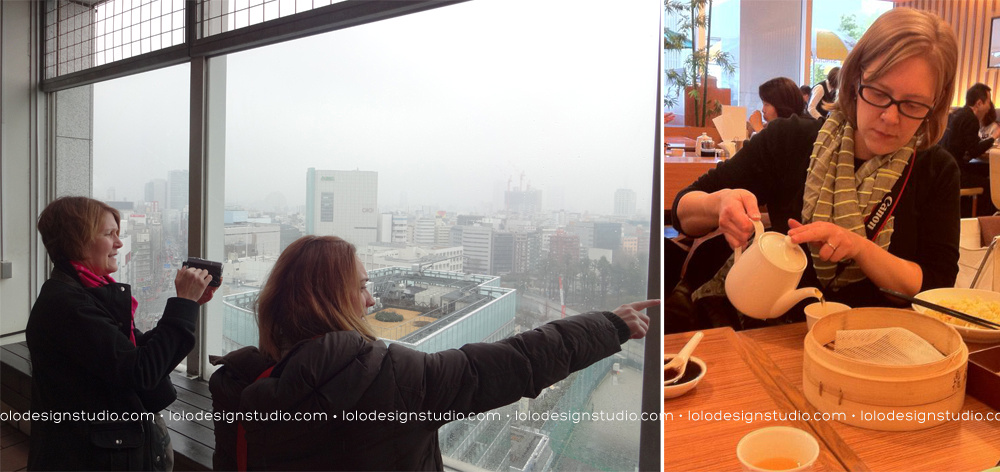 Once we secured a spot in the lunch queue for Din Tai Fung, April took us out to the balcony to attempt to point out landmarks. It was really rainy & foggy, so we couldn't see as much as a normal day. But, MBH got April's narration on video explaining where they should be... Green tea at every meal - another bonus!
Miss A (5) knows how to work the chopsticks with her dumplings!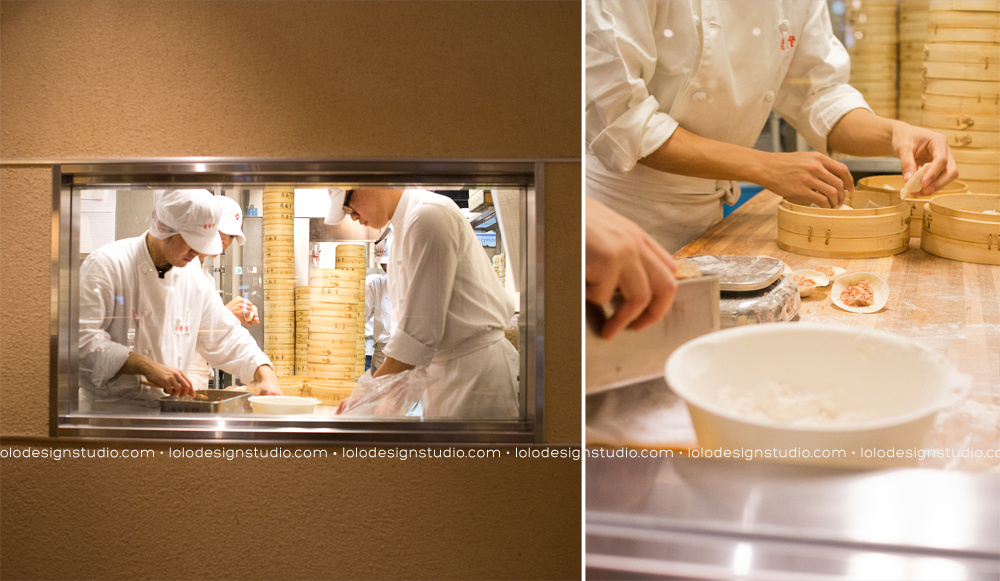 I had never had dumplings, and they were soo good. I was REALLY looking forward to all of the food on this trip, and I was not disappointed. I really miss it.
The restaurant we went to was on the 12th floor of the Takashimaya department store, so we caught a few glimpses of other floors on our way up & down. Photo on the left is a variety of indoor slippers you can purchase (since they do not wear shoes inside the house) & we also ran across an area set up with Girls Day displays. April has a great post explaining that here.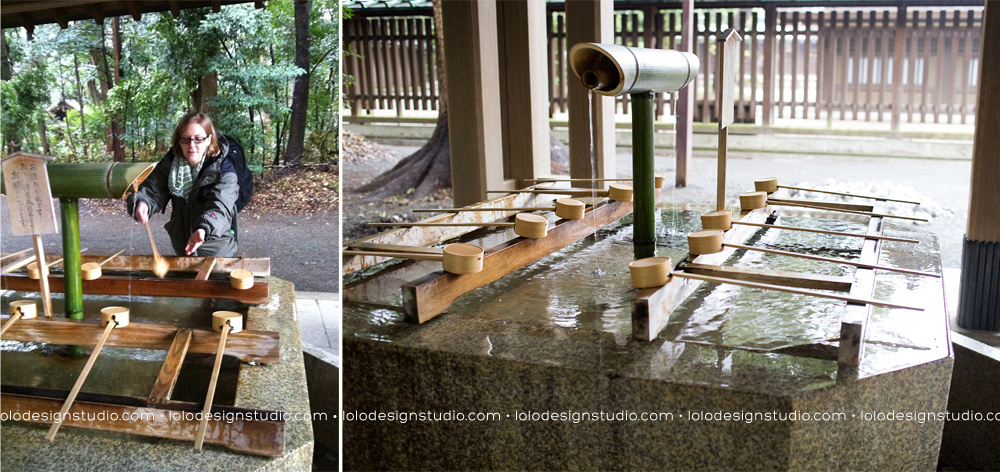 After lunch, we went to the Harajuku area & walked through the Meiji Jingu Shinto shrine (Shintoism & Buddhism are the 2 primary religions in Japan). This was a cleansing station before you entered the main area. Another surprising thing to me was that most signs were also in English - yeah!
Donated sake barrels on display within the shrine… We learned the next day, on our bus tour, that this shrine is fairly young, built in 1920. After we left there, we tried to check out Yoyogi Park to see if any of the normal performers were out. But, it was so rainy that day, there was nothing going on.
With all of the rain, we quickly learned the importance of clear umbrellas. It was just a sea of people & a sea of umbrellas. The umbrella on the left image belongs to a total stranger, if that gives you any indication of how tightly we were all squeezed in this street! On Takeshita Dori Street, we hit a 4-floor "100 Yen" store (which is basically like our "Everything's a Dollar" store - Squid Jerky, anyone?!), had a snack at the oldest crepe shop in Harajuku, then walked over to the Oriental Bazaar & picked out kimonos for the kids.
I tried the Strawberry and Matcha (green tea) Cheesecake crepe…MBH & April tried the Chocolate Almond version. Yum!
For dinner, we grabbed Eric & went to dinner at Gonpachi, which is the inspiration for the crazy fight scene in the movie, Kill Bill. "Kanpai!" (Cheers!)
Yes, that was me at every meal...such a tourist! But, hey, love this camera! These bacon-wrapped asparagus were close to the top of my list for favorite foods we ate that week. We've tried to recreate them at home already, but its just not the same…we will keep trying, though!
And, that concludes Days 1 & 2! Even with the constant rain, we stuck to our itinerary except for 1 site, which we squeezed back in later in the week. Sorry for the picture overload, but you know me - I like love to take pictures! : ) Stay tuned for 1 (or 3) more blog posts about the trip!
**See the 2nd post here**
***See the 3rd post here***
****See the 4th post here****