Merry belated Christmas!! I hope everyone had a wonderful time celebrating with family & friends over the weekend and on Christmas Day. Our family traveled back "home", as our kids call it now, too. And, we were totally whipped going back to a normal schedule the day after! Can't wait to relax a little this next weekend as we ring in the New Year...bring on 2013!
So, rewind back to the previous holiday weekend of Thanksgiving, if you will. I had two sessions lined up & was really looking forward to both of them. It had been unusually warm, so all was good, right? Well that lovely lady, Mother Nature, decided to go from nice & sunny, 55 degree days to a windy, cold, 40 degree day in less than 24 hours. I suggested they dress in layers & off we went!
Family #1 - The Kempers.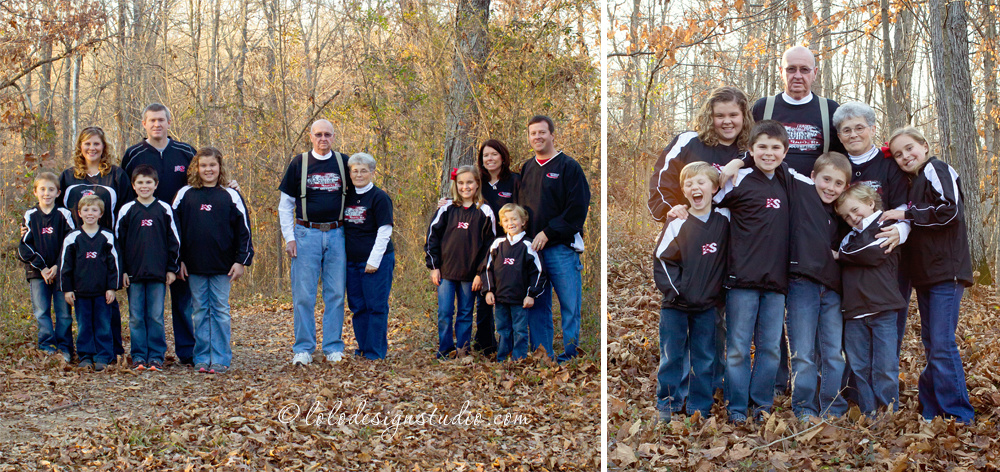 I scouted out a spot that was down in the woods & a little less windy to start. I loved these pullovers - GO RAIDERS! : ) It was also during this round of images that I was informed that Dad/Grandpa hadn't been seen smiling in a photo for quite some time...challenge accepted!
When I got there, they asked if I found their house ok from my parents' house. And, Dad/Mr. K basically said, "I told Shea you just needed to go through the field!" Which is exactly the same set of directions my dad gave me...If you know either her dad or mine, you can totally see them saying that. While it really is true, its a much muddier option.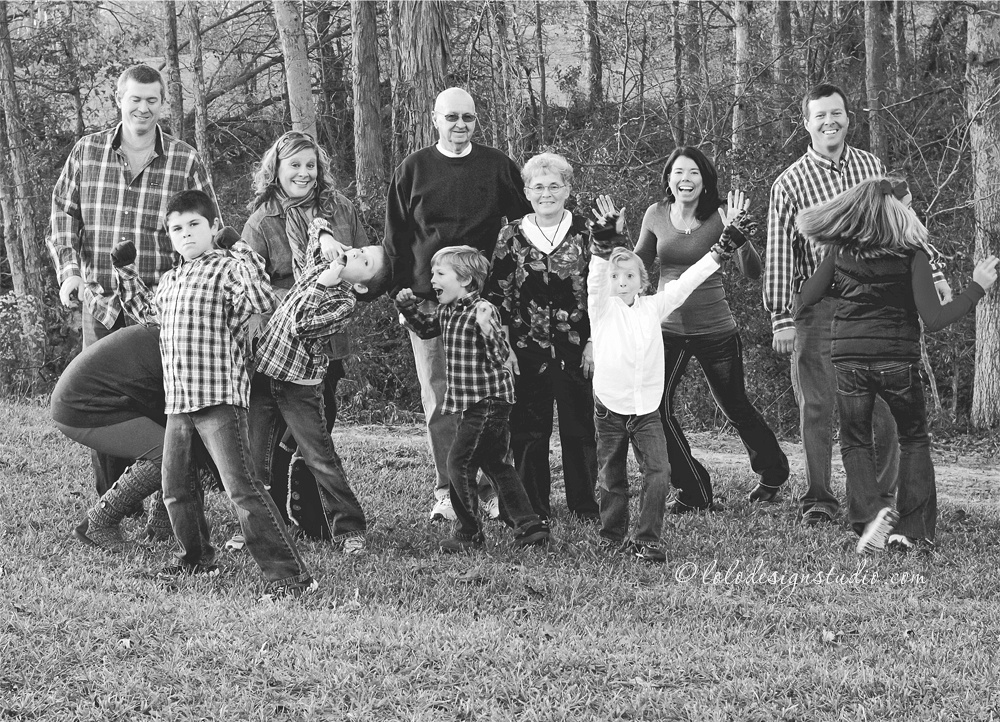 Do you notice anything different on this one? (Besides all of the personality, that is...) YEP - he's smiling! I posted this to my wall on Facebook awhile ago, because I just really love it & what it represents (all of the Dads & Grandpas out there who are reluctant to smile for the traditional family photos, but actually do smile in real life). So, please get this one in a frame, or made into a magnet for the fridge, or something where its visible... You do not want to keep this one in a folder on your computer or tucked away in a photo album. Just my two cents on that. Thank you for acting crazy for me. It makes me smile every time, too.
P.S. Blog Readers - not only did I get 1 smiling picture, I got 2!
Such a wonderful family! I have known them since who knows how long, from church, from our tiny little hometown (with zero stoplights, by the way), from high school sports & so on... For about the past 2 years, every time I've run into Shea (top photo), she has mentioned they needed to get their family pictures taken. I'm glad it finally got to happen for her (and to have me take them, of course!). And, one of these handsome little guys (in the bottom photo) has the same name as my son, so that was an easy one to remember... They were all so full of energy - I can only imagine what a day in their house would be like. LIVELY, to say the least!
Mr. B & Miss B...such sweet siblings. They have been through so much together in the past several years - much more so than normal kids their age have experienced. I have kept in touch with Mr. B's story through his mom's Facebook posts, his Caringbridge site & updates given at church. He is one tough little guy! His bracelet is the yellow one, with the rest representing other brave little warriors they have met along their journey.
And, not to save the best for last, BUT I did take a few requests from these girls. When everyone else went in to warm up (and were just d.o.n.e. with pictures), they were still ready to go. Here are a couple of my favorites - they had so much fun thinking up what to do next & could have probably used up the whole session time if we would've let them.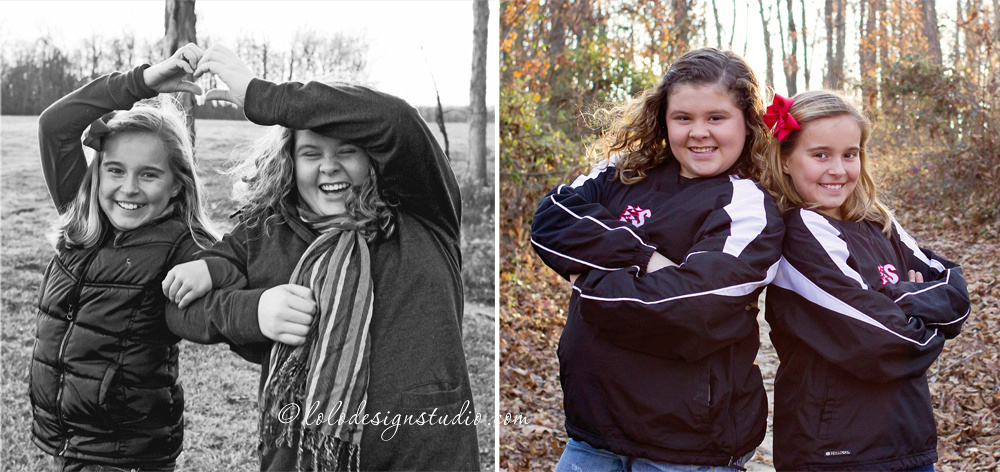 Can you tell I haven't blogged for awhile? Lots of chit-chatting in this one... But, one last little note before I wrap it up. When the family went in for a wardrobe change (which I opted to stay outside, so I wouldn't thaw out), I got a little waft of homemade bread. That was a close guess, but it was actually homemade cinnamon rolls. And, Mom/Grandma told me she was sending some home with me - wahoo!! Unfortunately, it was dark when I left there & we ate them the next morning before I thought about getting a picture of them. But, you will just have to trust me that they were AWESOME! Thank you so much!!!
So, there you have it. I will now gladly accept tips in the form of homemade baked goods. : )
See you back here soon for a look at my last 3 sessions of 2012...